Balustrade Systems
With quality and streangth polyurethane provides, your balustrase systems from First Class BP will look amazing and last a lifetime. Our Balustrade Systems enhance any staircase, patio, or enclosed area. Balusters are the main instrument used in balustrade systems to create a desired appearance.
Decorative Balustrades and Railing Systems
Top railings and bottom railings accent the balusters while the newel posts provide balance. Accessories such as newel caps and finials finish the completed look. Thinner balusters project a flowing, comfortable atmosphere, while thicker more prominent baluster styles have a colonial or structured feel. Tall, short, round, or square, we can create a balustrade system for your ideal design.
Because polyurethane products are built to last by being moisture and mildew resistant, cracks and rot typically found in wood, can be avoided.
Balustrade systems will coordinate beautifully with your existing architectural style. Balustrade systems define entranceways, verandas, terraces, lanais, porches, decks and balconies. These structural architectural gems accentuate your residential or commercial outdoor areas and create a beautiful space that sets you apart from the rest.
Choose from a variety of balusters, newel posts, newel caps, balustrade railings and accessories to create the ambiance you desire, from the Classical to the Colonial, and the Italianate to the Contemporary.Our classic Balusters and balustrade railing systems are made with a unique process. High-density polymer material is cast around aluminum or PVC pipes in balusters, around aluminum pipes or heavy-duty vinyl pipe(s) in top and bottom railings and around heavy-duty vinyl pipes in newel posts.
Enhance Current Architecture or Create a New Design
The perfect finishing touches can make all the difference in how your home or office looks. Whether you have a remodel in mind or want to build from the ground up, Balustrade Systems by Arch Net Building Products, Inc., will complement your architectural design. Our do-it-yourself baluster installation kits make it possible for you to add your personal touch to entryways, decks, or balconies.
Balustrade Systems let you coordinate all aspects of your design and décor. By using the appropriate size and shape of balusters and accessories, you will improve the overall experience when you step into your new surroundings. Our products are built with longevity in mind, to ensure that you will enjoy their beauty and structure for years to come.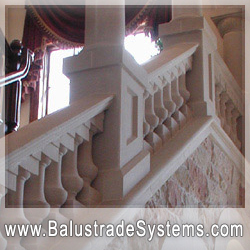 When you decide to work with Balustrade Systems, you will be able to custom order balusters, railings, as well as newel caps and newel posts specially made to your specifications. We're happy to answer questions about the technical aspects of installation or about the aesthetics of your architectural needs. Whether you need a fresh point of view for a renovation or original ideas for new building plans, let Balustrade Systems help.